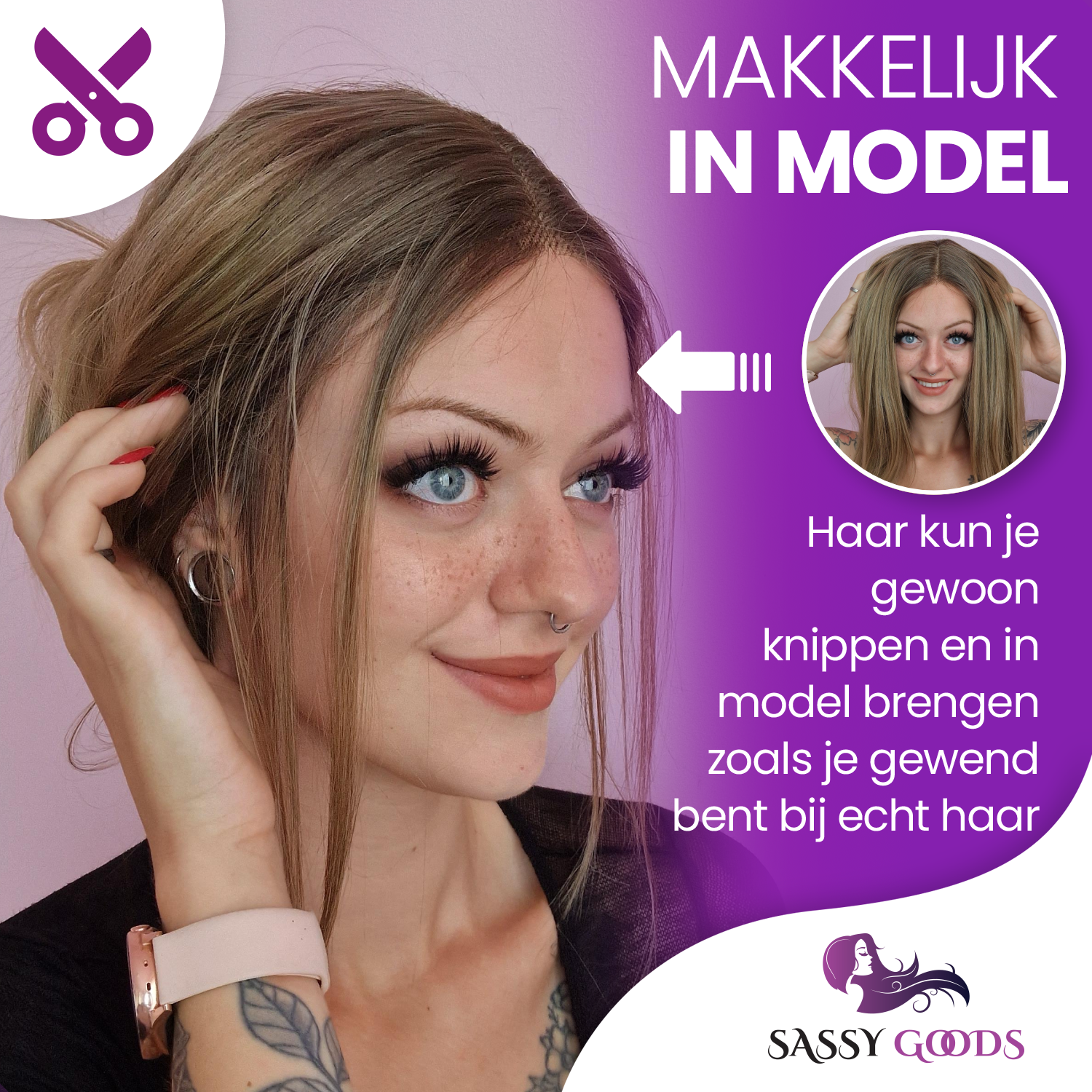 Luxurious Light Brown Wig Front Lace Wig - Straight hair - 65 cm
€79,95
Are you looking forward to having beautiful hair again soon? And preferably also in a super realistic way? Then this wig with lace is exactly what you are looking for!...
Are you looking forward to having beautiful hair again soon? And preferably also in a super realistic way? Then this wig with lace is exactly what you are looking for!
The material of this lace wig is of a very high quality. This results in a wig with a beautiful color, various colors in the wig, which is also comfortable. You will then never have to worry again. The minimal visibility on the head is universally appreciated.
Are you looking forward to wearing a very realistic wig? Then this option with lace is a gift from heaven for you. Thanks to the very fine mesh and the elasticity present, you hardly notice it yourself. It provides a wonderful feeling for the average wig wearer. Go for the wig that makes your life better when you look in the mirror.
This lace wig comes with the following benefits:
Higher quality: The quality of this wig is a lot higher than you are used to from a 'normal' wig. For example, the hair feels soft and has a beautiful color. In addition, it is washable and the hair lasts for a very long time. You are therefore provided with the right material for a long time.

Can be styled up to 150 degrees: Use what you want, a hair dryer, curling iron, straightener, it's all possible. Play with your new hair! Use the same shampoo and conditioner you use on your own hair to wash it.
Minimally visible on the head: The great thing about a wig with lace is that it is minimally visible on the head. As a result, it is hardly noticeable for others that you are wearing a wig. The whole looks very natural. This just feels a bit nicer.
Elastic piece for maximum comfort: What is also experienced as very pleasant is the elastic piece for maximum comfort. This ensures that you can easily adjust the wig. This allows you to keep adjusting until the wig really fits perfectly.
Natural look: Finally, this hair is provided with a lace, which you have to cut off. As a result, not only does the hair itself have a natural look, but the hair edge also looks a lot more real. This sits on the scalp in a particularly natural way. It is therefore hardly visible that it is a wig.

Color and texture: The color is light brown, a very natural color. The hair is also layered, which looks very natural.

Lightweight and comfortable: The lace wig weighs 150 grams. That means that it is not a heavy wig, but it has a lot of hair that has a light weight. The wig is comfortable due to the adjustable inside. You can also wear it in no time, within 1 minute you have a different look.
Usage
Match your hair with your clothing color, just because you can! Do you have a party and you just want to wear that one dress, match it with your favorite color wig, as often as you want. Hello alter ego! (Have you thought of a name for your alterego yet? ;))
You can do anything with your wig, use nice hairbands, pins, hats, bars, enjoy the possibilities that are available. Feel free to use some hair spray to style the hair for your favorite look!
Without having to go all out for one look, you can try out different looks with your wig(s). Totally fun right!
The wig is for all ages and for everyone. It can be used as an accessory, just for fun, or if you are going through a difficult time with your health, or condition you have such as alopecia, these wigs are the solution.

Why is the product more expensive than normal wigs? The lace wigs are made with the most sustainable production. The lace in the inside of the hairpiece is made of beautiful high quality Swiss lace and the hair is made of special synthetic fiber. It is therefore a wig that will last a lifetime.
Will the hair not tangle? The hair is made of durable synthetic fiber that is made in the most sustainable way. If you want to have your hairpiece back in shape after a day of wearing it, you can use the anti-spray technique mentioned above, add some conditioner to a bottle of water and spray on the hair. Then comb it from bottom to top, preferably with an anti-tangle brush or boar bristle brush. And your wig is ready to go again!
Is the hairline not very visible on your head? The hair has a piece of lace that can be cut off, which is so transparent that you cannot see it on your scalp. it also has baby hairs so that the hair looks just like your forehead and no one can see that you are wearing a wig.
In addition, you can bring out tufts of hair from the wig on the side of your wig, making it look playful and beautiful at the same time and making your hairline even more invisible. Feel free to play with it!
How do I know that the color suits me? You never know who you might actually be in secret until you try the color! It's so much fun trying out a new color. If you have any doubts about this, please send a message via the message button on the webshop and we can help you with this.
What if you think, is a wig something for me? Why not? If you want to have a little fun and step outside your comfort zone then it's right for you. Maybe the hair color and shape is exactly what you want, the color, the texture, the look you want?
The hair color is very natural so you can't go wrong with that.
package contents
1x wig with front lace
1x hairnet
1x manual with care and washing instructions (e-book)
Specifications:
Hair Density: 150%

Type: Lace Front Wig

Texture: Straight hair

Lace: 4 x 4 inch switzer lace

Hair length: 21 inches (55 cm)

Weight: 150 grams

Color: Light brown
Wash and use the wig
Washing instructions: wash every 2 to 3 weeks with lukewarm water and your usual mild shampoo and conditioner. Let it dry on a wig stand.

Tangle-free: Dissolve some conditioner in water and spray it over your wig.

Combing: Comb the hair from the bottom up to maintain the hair.

You can straighten, blow-dry and curl this hair. NOTE: Painting is not possible!
100% money back guarantee
If you think you have chosen the wrong color, you can always return the wig to us with a 100% money back guarantee. Send the wig back and receive your money back within 10 working days.
Don't wait any longer and order your copy today and have it delivered tomorrow! Includes free shipping.
Zeer tevreden over mijn aankoop
Aankoop ging makkelijk en snel. De kortingscode die ik in de mail had ontvangen deed het niet, dat was wel jammer. Maar levering super snel. Pruik lijkt net echt haar en past goed. Kortom, ik ben zeer tevreden. Volgende aankoop bestel ik misschien nog accessoires erbij zoals bewaarhoofd en speldjes
Hi Mam W. fijn dat het zo makkelijk en snel ging, de kortingscode doet het gewoon weer inmiddels! Als je je inschrijft voor de nieuwsbrief ontvange je deze van ons :)
Perfect!
Ik heb deze pruik van het geweldige team van sassygoods gekregen, en het is nu echt mijn favoriete pruik! Ze is super zacht, klit niet, en een ontzettend mooie en realistische haarlijn. Bijna niet van echt te onderscheiden